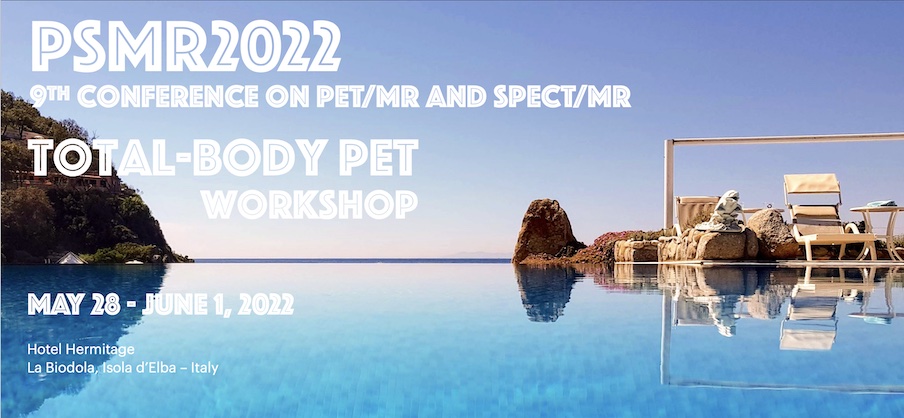 9th Conference on PET/MR and SPECT/MR & Total-Body PET Workshop
May 28 - June 1 2022, Hotel Hermitage, Isola d'Elba, Italy
As diagnostic techniques evolve from the systems to the molecular level, the role of multimodality molecular imaging becomes increasingly important. PET, SPECT and MRI are powerful techniques for in vivo molecular imaging. The hybrid combination of PET (or SPECT) and MRI, enabling truly simultaneous acquisition, is expected to bridge the gap between molecular and systems diagnosis. The introduction of Total-body PET has revolutionised the molecular imaging field making it possible to visualise what was previously unaccessible and opening the way to new applications.
By continuing the newly established and successful series of conferences on PET/MR and SPECT/MR and on Total-body PET, we are delighted to announce that in 2022 the 9th Conference on PET/MR and SPECT/MR and the Total-body PET workshop will be jointly hosted in the "Symposium on current trends in PET: Paving the path to fully quantitative imaging".
The event is scheduled for 28 May - 1 June 2022 at the Hotel Hermitage on "la Biodola" gulf, in the beautiful Elba island near Pisa (Italy).
The conference will not only cover all the technological aspects of PET/MR, SPECT/MR and total-body PET systems and their clinical and preclinical application but also ample space will be given to dedicated systems, novel technologies and new tracers.
This year, the conference will include also a dedicated session on Metabolic Imaging for standalone MR and PET techniques, with and without each other.
Full papers from the joint event undergoing also a full peer review process will be published as a special issue of IEEE Transactions on Radiation and Plasma Medical Sciences. More details on the full paper submission procedure can be found here.
We are looking forward to welcoming you at the Symposium.
The conference chairs
Nicola Belcari
Stefaan Vandenberghe
---
Sponsored by:

Contact: psmrtbp2022@lists.pi.infn.it